SMART ACCOUNTING SOLUTIONS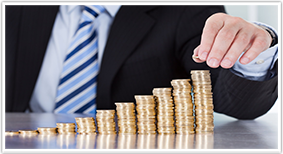 The days of offering simple bookkeeping services to businesses are gone. With modern start-ups flourishing, and businesses finding innovative ways in which to expand, it is necessary for any financial services firm to also offer more comprehensive solutions.
Adding Value through service: we build business relationship with our clients and serve as a their trusted advisors delivering proactive business advice to help them grow their business, manage cash flow, tax obligations and improve profitability.
Creating flexible solutions for our clients: services include sales tax preparation, monthly (or quarterly) management reporting, annual accounts, budgeting and business performance monitoring, VAT preparation – all for a monthly fee.
With years of experience in heading up finance function and handling financial matters for a variety of small – medium size companies, we are perfectly placed to offer your business the bandwidth to expand without any distraction, or fear of non-compliance. We are trained financial experts, and our job is to take every aspect of accounting and finance, and adding value to your business organise it to your benefit.